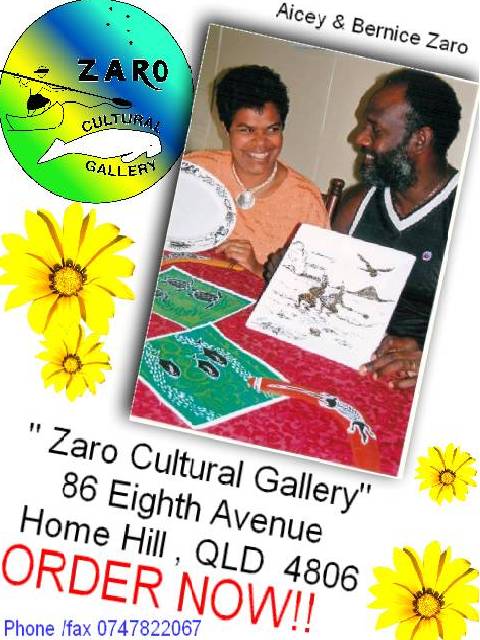 Aicey & Bernice Welcome You
Hello,
Thank you for visiting our NEW SITE. Our Gallery can be found on the Bruce Highway as you pass through the little town of Home Hill in Northern Queensland, Australia. We have been open since November 2004 and are a privately owned and run business. The gallery has a large exhibition area with artworks for sale and a visitors lounge. There is also the Artists workshop where guest can view and talk about new art pieces.
When travelling north or south,
drop in for a cuppa & yarn.

From Aicey & Bernice
View and sign my guestbook
Artist Profile - Aicey Zaro
Aicey was born in the Burdekin, North Queensland, Australia. His father is from Murray Island in the Torres Strait, and his mother is of Aboriginal and South Sea Islander descent.
Aicey is a well known local artist whose commissioned murals can be seen around the Burdekin district. In addition, his works have been sold as far away as Italy , Swedan , England ,Japan and Spain, as well as the Torres Strait and Australia.
Aicey has adapted his own unique and easily recognisable style to various media which include handpainted silks, acrylic paintings, handpainted ceramics, batik and handpainted jewellery. His love of the sea and land of North Queensland and it's flora and fauna, are all reflected in his artworks.

ALL ARTWORKS/ IMAGES ON THIS WEB SITE ARE SUBJECT TO COPYRIGHT , UNLAWFUL USE IS PROHIBITED
Gallery's
CURRENT AWARDS
2005 Burdekin Area Small Business Award -Winner - Tourism & Travel
2005 Aicey was Nominated for the National NAIDOC Awards- Artist of year
2006 Nominee Burdekin Area Small Business Award - Gift & Retail
2006 Indigenous Memento of Australia - Winner -Frangipanni Land Activity Pack
2006 Nominee Towsnville Region Export Awards- Tourism
Gallery Trading Hours
Our Gallery is opened Monday to Friday from 9:30am - 5pm & Saturday 9:00am - 1:00pm

CONTACT US
ZARO Cultural Gallery
86 Eight Avenue , Home Hill
QLD 4806
ph/fx 61+0747822607
mbl 0410482992
EMAIL-zaro.gallery@bigpond.com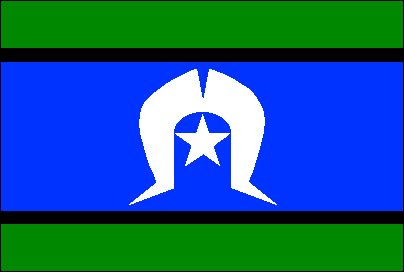 Torres Strait Flag
The Torres Strait islands are found between the top of Cape York Australia and Papua New Guinea- See Custom Page for Map